Premiering this year at the Cannes Film Festival, Le Ballon Rouge children's area offers some welcome respite for parents and kids. Why didn't they think of it sooner? asks single mum Barbara McCarthy for Exquisite.ie.
'Welcome kids! You are the new VIPs' – the latest star to the Cannes Film Festival offers a welcome new script…writes single mother of one Barbara McCarthy for Exquisite.ie
Le Ballon Rouge: Journalist Barbara McCarthy with daughter Romi (4) at the Cannes Film Festival's first children's area Image: Exquisite.ie
Just before I travelled to Cannes with my four-year-old daughter Romi, I joked with a friend saying, "I doubt they have a kids area," "No," she laughed. "As if?"
Undeterred, I thought I'd have a quick look online to see if I could find anything and to my great joy, I stumbled upon Le Ballon Rouge Children's Pavilion, which is premiering at Cannes this year.
Le Ballon Rouge: Romi McCarthy (4) outside the children's area at the International Village, Cannes Film FestivalImage: Exquisite.ie
Named after the popular 1956 children's film by Albert Lamorisse (which incidentally won the Palme d'Or that year), it offers five key services for families including onsite childcare, family accreditation, a Baby Lounge, an express changing and feeding corner in the Palais and a baby VIP kit.
Situated beside the harbour, in the International village, you'll find Le Ballon Rouge Pavilion, a relatively small space dedicated to children.
Three nannies and a nurse from the Paris-based service Nanny Please make up the core team along with two local volunteers to make sure the children are entertained and minded to the highest standards.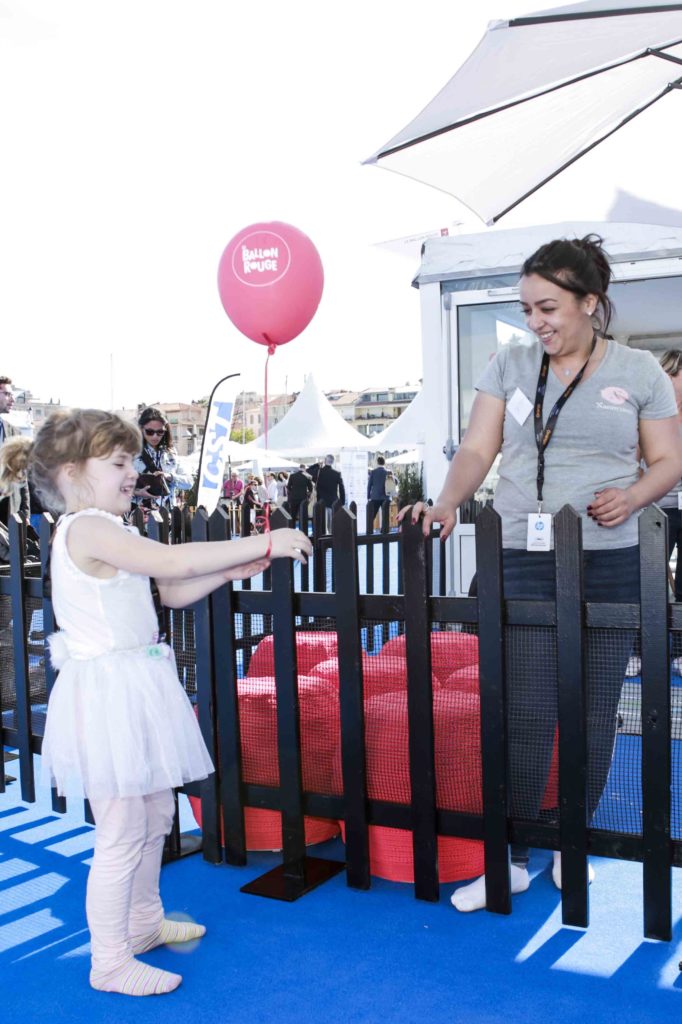 The brainchild of three film industry mothers struggling to juggle parenting with festival schedules, Le Ballon Rouge (the red balloon) is only the beginning of a 'new family-friendly festival journey'. Aurelie Godet, Michelle Carey and Sarah Calderon hope to see their project grow and even spread to other film festivals.
"The baby unfriendly nature of the film industry has always been a given but we need to reach a better work-life balance, to enable greater participation for parents and make traveling with a child less of a battle," Aurelie Godet, a co-founder says.
"We need infrastructures and support in our nomadic lives to achieve raising our kids while being present," she adds.
Le Ballon Rouge: Accreditaion for the children's area at the Cannes Film Festival Image: Exquisite.ie
You need official accreditation to access the play area, and when we picked up Romi's officials pass, she received a bag, hat and information pack about the volunteer service. We then made our way over to the pavilion where Romi was greeted by charming festival volunteers and a red balloon. Mais oui.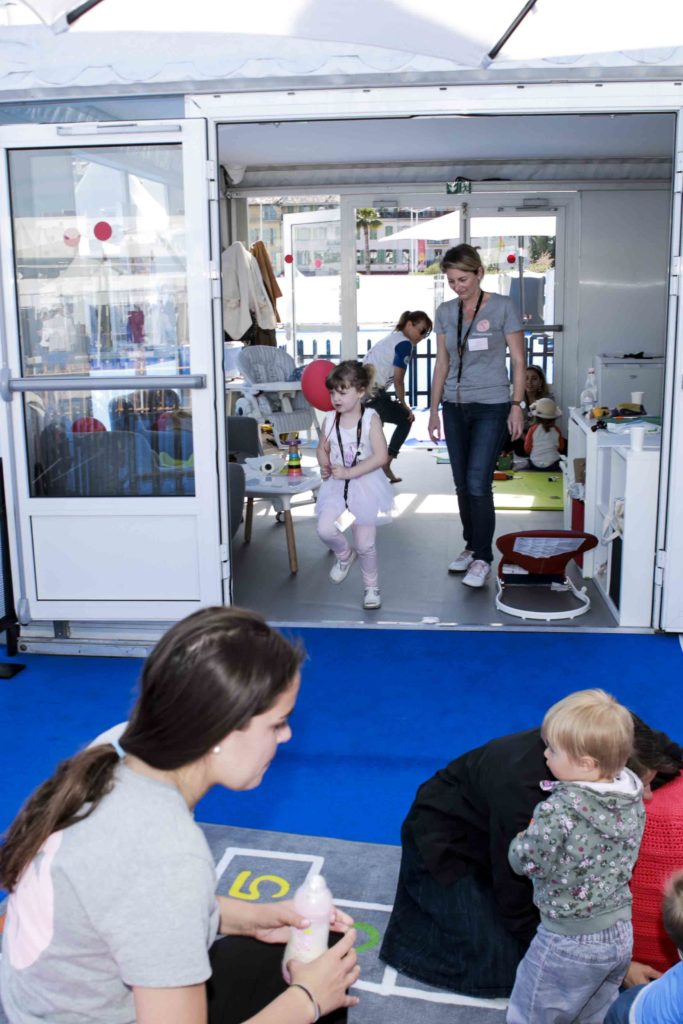 As a single mother, who travels a lot with my child, having a few hours off is golden and when I saw the lovely kids pavilion in the international village, it made so much sense. It also made me ponder why it's taken 72 years for Cannes to be baby friendly.
Le Ballon Rouge: Journalist Barbara McCarthy in Cannes with daughter Romi (4) Image: Exquisite.ie
It seems, the movie world is catching on to the fact that parents work in film and have children. In the next few years expect to see much more such initiatives. Already a "playhouse and nap room" was set up at the Sundance film festival last year by the US-based Moms-in-Film group.
The infrastructure for Le Ballon Rouge was funded by the film market while the child care costs were raised through a crowdfunding initiative with contributions from more than 12 companies and institutions.
Michelle Carey, also a co-founder hopes to see further initiatives at festivals around the world. "We've had an incredible response. We ask parents for a small fee, but mostly it's run by volunteers who have other responsibilities and projects in Cannes."
Le Ballon Rouge was a lovely, friendly, sunny, safe spot. My daughter was immediately enamoured and lovingly embraced.
Baby steps it may be but it's the beginning of a psychological shift and soon we'll look back and wonder why no one thought of it sooner.